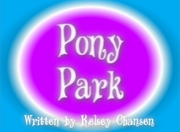 Pony Park Wikia Overview
This is a wiki for the massive TV Show: Pony Park. This site is semi-fanmade, as it has been approved by the owner and director, Kelsey Chansen. She has full rights to anything posted or discussed on here pertaining to the show.
With that, we welcome you to Pony Park's wikia!
About Pony Park
Pony Park is an animated TV Show centering around the town, Pony Park. The show is scheduled to premiere on the RBN Channel on July 17th, 2012. Kelsey has allowed this wiki to spill and collect information, as she believes the fanbase deserves it. This wiki was made to express our love for Pony Park, it's characters, talent, and so much more. Thank you, Kelsey, cast, and crew!
The series is generally about many ponies, some of which are background at times, and others may be in the action. You can view more about this excellent show on the other pages.
Helpful Links
Community content is available under
CC-BY-SA
unless otherwise noted.